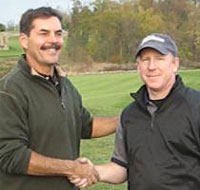 November 4, 2007, Ijamsville, MD — In his BGA debut, Ed Urrutia shoots 82 in the final round winning his first ever BGA event. On the final nine, down by 7 points and in 4th place, Ed post 78 points on the back nine, taking full advantage of the double points to come from behind and win by 11 points. Ed's first round was also filled with excitement. On the par 5, 10th hole, measuring 480 yards – A driver, 6 iron to within 6 feet nets an Eagle for the long hitting Spaniard.
There was also great food, hospitality and some descent golf from 2nd place finisher and tournament host
Don Drehoff who made an eagle on the par 4, 5th hole at Whiskey Creek in the final round. Don's "course management" prevailed despite Frenette's Drive to within 25 yards of the green (he only walked away with a par). Don using a 4 iron off the tee and a 9 iron approach shot that took a bounce, hop and then fed right 10 feet into the cup. Jim Frenette made a charge on the back after being struck by an errant shot in the tummy compiling 50 points on the final 6 holes. What won't kill him, made him stronger.
Sunday
Final Results
Score
Back
9 Points
Total
Points
Urrutia
82
78
161
Drehoff
87
60
150
Frenette
89
62
146
Mejia
88
46
127
Trusheim
94
40
124
Olds
97
38
102
Front
9 Points
Total
Points
Drehoff
30
90
Frenette
25
84
Trusheim
26
84
Urrutia
31
83
Mejia
32
81
Olds
18
64
Round 2, 10:30 a.m.,
Whiskey Creek Golf Club, Ijamsville, MD. Weather: 50-60 degrees, partly cloudy but
breezy.
Front 9, First Group:
Frank Mejia, Vince Olds, Ed Urrutia
Front 9, Second Group:
Don Drehoff, Jim Frenette, Mark Trusheim
Back 9 *, First Group:
Frank Mejia, Vince Olds, Ed Urrutia
Back 9 *, Second Group:
Don Drehoff, Jim Frenette, Mark Trusheim


* double points (18/3 per hole)
Tournament Format: Modified "nines"
First three nines: 9 points per hole per threesome divided based on match play result. i.e., If all three
players halve the hole, each gets 3 points. If 2 players halve the hole, they get 4
points each, the remaining player losing the hole gets 1 point. If no one halves
the hole, lowest score gets 5 points, next lowest 3 points, and then 1 point for the
highest score.
Final nine – double points (18 per hole), and in the spirit of the Mulligan Memorial, mullies are assigned based on the players handicap. The defending champion regardless of handicap only gets 1 per
round.
Saturday
First Round
Scores/Points
Mulligans
Score
Points
Drehoff
4
82
60
Frenette
1
85
59
Trusheim
2
87
58
Urrutia
3
86
52
Mejia
5
89
49
Olds
18
96
46
Round 1, 12:00 p.m., Musket Ridge Golf Club, Myersville, MD. Weather: 50-60 degrees, sunny but windy.
Front 9, First Group:
Vince Olds, Mark Trusheim, Ed Urrutia
Front 9, Second Group:
Don Drehoff, Jim Frenette, Frank Mejia
Back 9, First Group:
Don Drehoff, Mark Trusheim, Ed Urrutia
Back 9, Second Group:
Jim Frenette, Frank Mejia, Vince Olds