Leon Anderson Wins the 2023 Water Can!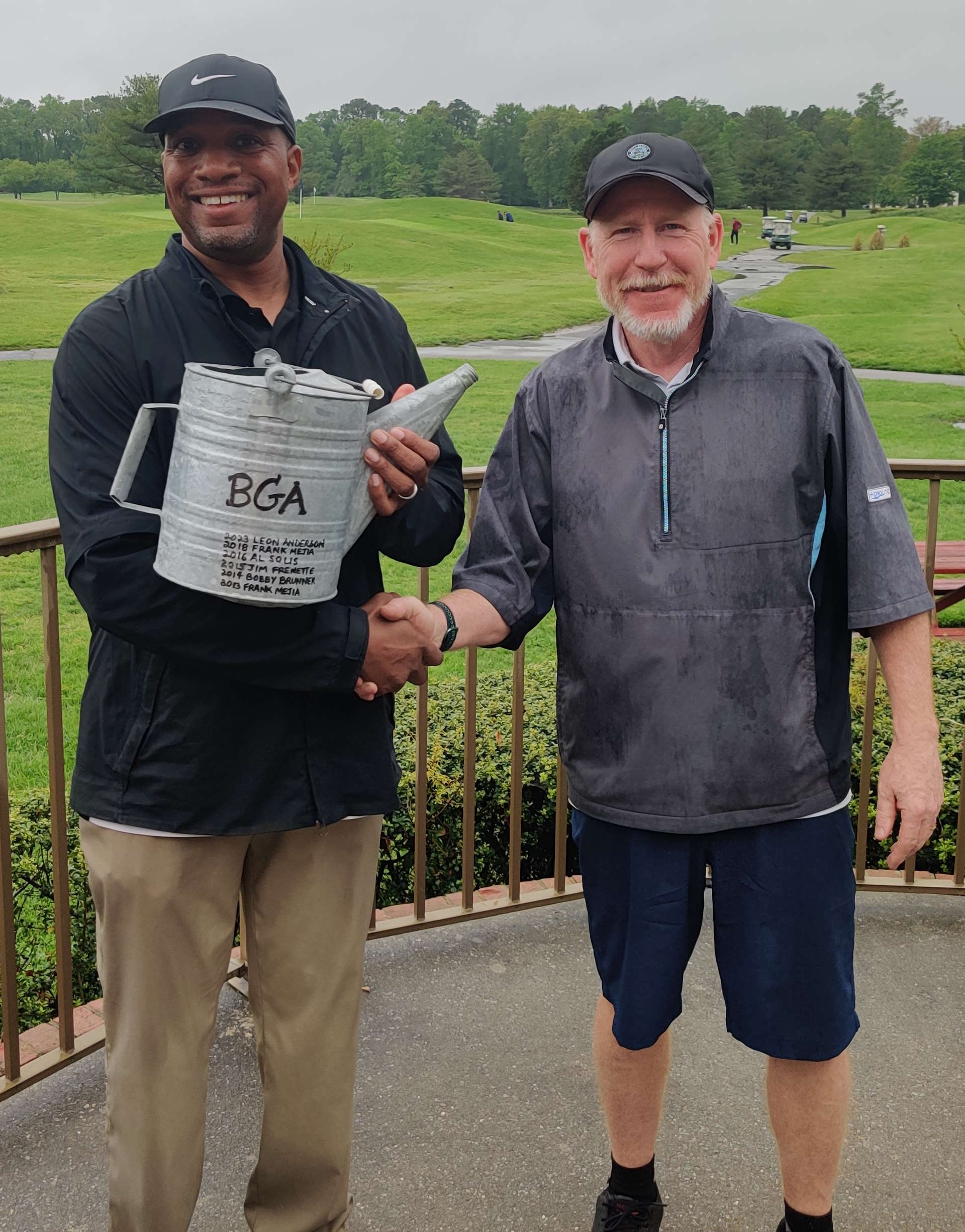 On the patio overlooking the 5th at The Nutt, Leon Anderson presented with The Water Can trophy by tournament host, Jim Frenette.
We had 11 players sign-up for this event on the Eastern shore, however the weather forecast chased a few away and we ended up with 8 BGA members.
This is the 10 year anniversary of The Water Can Classic in the History of The BGA.
Using a modified stableford format. The scoring is as follows, Par: 1 point, Birdie: 3 points, Eagle: 5 points, Bogey: 0, Double Bogey: -1 point, Triple Bogey: -2 points.
Saturday, April 29th
First Round – Baywood Greens, Long Neck, Delaware.
Partly cloudy as the heavy rain storms over the last 36 hours headed towards the ocean in time for our afternoon opening round. This left the course soaked and it was also quite humid with temps in the mid 60's when we teed off at 2:00 pm.
1.
Leon Anderson
+4
2.
Scott Ward
+2
3.
Jim Frenette
+1
4.
Bob Hoff
-1
Paul Buckley (FNG)
-1
6.
Matt Schwam
-5
7.
Frank Mejia
-11
8.
Pat Keough
-25
CTP
6 Jim Frenette $10
8 Leon Anderson $10
11 Bob Hoff $10
15 Pat Keogh $10
Round 1 Points Winner, Leon Anderson $10
---
Sunday, April 30th
Final Round – Nutters Crossing, Salisbury, Maryland.
The partying at Jim's ended between 2 and 3 am while it rained all night and into the morning, the course was drenched. Luckily we had a window between storm cells from the Southwest to forge ahead with round two. Temps in the low to mid 60's with a little wind at 10:00 am for the start of the second round.
Leon double bogeys the first hole then runs off a string of 5 pars. He bogeys the tough par five 6th and finishes with two more pars to shoot a 3 over 39 for 6 points on the front nine.
The tournament was called after nine holes due to the torrential rain that rolled in for the remainder of the day.
1
2
Total
1.
Leon Anderson
+4
+6
+10
2.
Scott Ward
+2
+2
+4
3.
Bob Hoff
-1
+4
+3
4.
Jim Frenette
+1
0
+1
5.
Matt Schwam
-5
+2
-3
6.
Paul Buckley (FNG)
-1
-5
-6
7.
Frank Mejia
-11
+2
-9
Pat Keough – DNQ
CTP
Round 2 Points Winner, Leon Anderson $10
---
1st place & BGA Champion