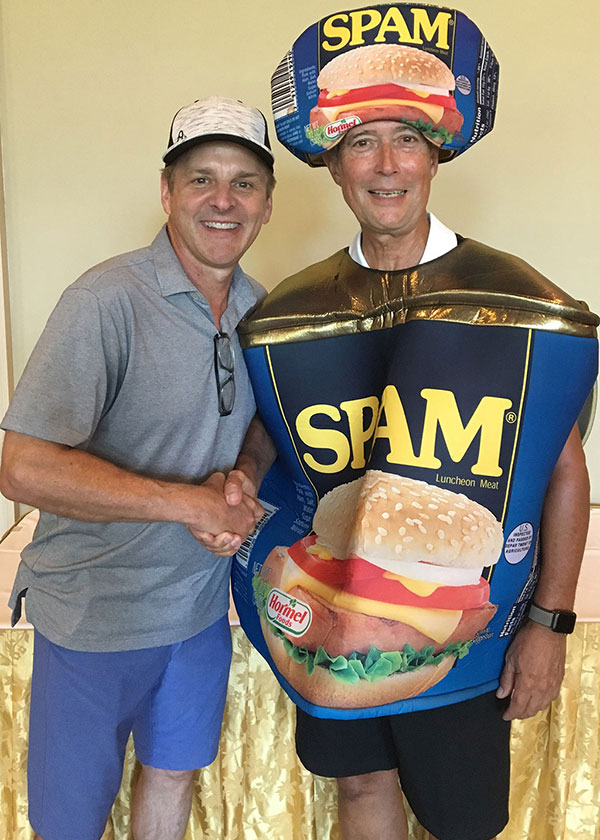 Don Drehoff congratulates 2019 SPAM Champion Frank Mejia
The 2019 Spam — A Story to Tell Our Children and Our Children's Children …

We will tell stories to our children and our children's children …
"Father, tell us about the man that landed on the moon …
"Pop, tell us what happened when the Berlin Wall came down …"
"Granddad, tell us why our youngest sibling looks like the mailman …"
And now … "Tell us about the great Frank Mejia …"
Ah. The great Frank Mejia. Born to an itinerate farmer in Puerto Rico. Raised harvesting the sugar cane. Toiled in the local spice factory, picking fly poop out of pepper while wearing boxing gloves.
Then one day — was it boredom?, was it fate?, was it destiny? — he fashioned the golf club he could not afford, attaching a conch shell to the end of a sugar cane stalk …
Well, that's where the story we know begins.
From there to local caddy. From there to local club champion. From there to America, stowing away on a Pan Am jet — and to this day, he still claims he was actually employed by that airline of yesteryear.
From there to the BGA. From there to BGA major champion. From there to the Godfather of the BGA.
Still, there was something missing. Something food could not fill. Something drink could not quench. Something doctors could not cure. Something women could not soothe by saying, "that's ok, Frank, I know your tired and had a long day, we can try again tomorrow …"
The Spam. Frank had never won the Spam. Frank's only blemish on the greatest of BGA careers. He had not won the Grand Slam.
Until Sunday, June 23rd, 2019 … when he sunk a 15 foot putt on the final hole to make par … to win the last six holes for 18 points … to finish with 34 points … to win the 2019 Spam and complete the career Grand Slam.
Oh, I know where I was. In the group behind, watching the pandemonium on 18 from the fairway, knowing that grabbing five of the last six holes myself would not be enough (27.5 points).
Oh, I know where Mark Chester was. In the final group, finally not having to be "Buddha" to Don's on-course histrionics through the first 48 holes … but folding like a cheap suit down the stretch, unable to pull off what would have been his 4th Spam title and first in nearly 20 years (22.25 points).
Oh, I know where Tommy Nelson was. In the final group., thinking "could this be my first major?," only to have his hopes dashed by the surging Spaniard (17.25 points).
Oh, I know where Matt Schwam was. All alone in third place entering the final round, only to be frustrated over the last 18 holes, having to listen to Don belly-ache and complain (12.5 points).
Oh, I know where Pat Keough was. Playing, grinding, sweating, spoiling, solid off the tee, taking just enough points from everyone else to contribute to the miraculous (9.25 points).
Oh, I know where Leon Anderson was. Looking back at everyone from the fairway, almost every drive, longest in the field … but could not make a putt. Could Not Make A Putt :-(8.25 points).
Oh, I know where Chuck Petrilla was. Praying to the porcelain gods, not only for better health, but a Frank Mejia victory, too (hope you are felling better, Chuck).
But all of us were there — not only to watch history in the making — but the making of history, too (isn't that saying the same thing?)
Anyhow, another story to tell our children and our children's children: we were there when Frank Mejia won his first Spam to complete the career Grand Slam. Congrats!!!