September 2009 — WILLIAMSBURG, VA — Quicker than a Class A fire – hotter than a Class B fire – more electric than a Class C fire – and much tougher to put a stop to than a Class D fire – the veteran Bogey Golfer Association players knocked off the upstart Baltimore County Firemen in weekend Wellman Cup action, 19-11.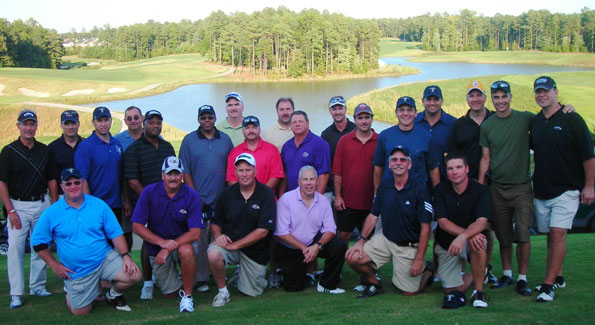 Day 1 scoring: BGA 4 – BCFF 2 @ The Crossings, Captain's Choice
Day 2 scoring: BGA 4 – BCFF 2 @ Kiskiack, Alternate Shot
Day 2 scoring: BGA 4 – BCFF 2 @ Stonehouse, Best Ball, and do I detect a 4-2 pattern here?
Day 3 scoring: BGA 7 – BCFF 5 @ Royal New Kent, singles
The courses and competition got tougher as the weekend wore on (but good news, the weather and food got better!). Although the scores are still unofficial (I want to tally exactly who won and who loss, for the history books) – MVP nominations clearly are Joe Spangler for the BCFF (4-0) and Mark Chester for the BGA (4-0, with just a blemish of not being able to close out the match on Saturday afternoon, found him in a portapotty between holes on the back nine, throwing up, so decided to take matters into my own hands and make a few putts myself so we could finish before we ran out of daylight.
And Captain's John and Scott – you did a great job organizing your team and taking the play seriously and the results lightly – as we all strive to do. Well done!
BEST part of the weekend? Meeting 12 great new guys who love the game of golf, and love giving my brother-in-law, Scott, a hard time even more than I do! It was truly my pleasure to play golf with you and get to know you all better. Us "white collar guys" are glad you're out there to protect us and taking our tax dollars to build lucrative retirement plans that we can only dream of as we toil to 65+
Good news, you guys earned your BGA tour cards! Consider yourselves invited to future major events. Hope some, if not all of you, can plan to join.