Andy Elkins Wins the 2019 Kohler!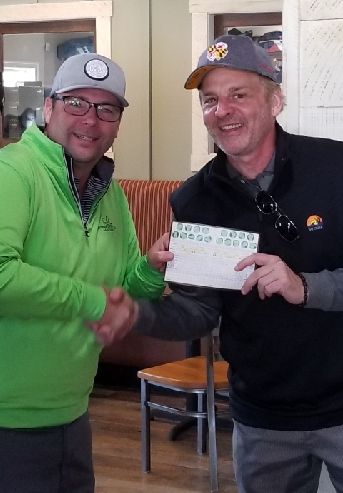 Andy Elkins, 2019 BGA Kohler Champion. Don Drehoff, Tournament coordinator at right.
The entire weekend … was like a great Frank Sinatra album:
I Remember Tommy (Sinatra, 1961)
Three original BGA members — Don, Frank and Mark — spent Friday with the fourth founding member, Tom Clement, enjoying golf together for the first time in probably a decade. The Kohler weekend officially started with an 18 hole Captain's Choice match, Army (Frank and Tom) versus Navy (Mark and Don). Navy was hoping to repeat and win, like the match from ten years earlier, but it was not to be. If we had forgotten Tommy and his clutch putting, we remembered Tommy when he holed an impossible 25 foot putt from off the green (that damn Tuttle 2) on hole number 6 — to take a lead that Army never relinquished.
Unexpected sleet and hail forced an early adjournment … with Army declared the winner, 2 up.
September Of My Years (Sinatra, 1965)
These same Four Horsemen then shared the first Kohler Champions Dinner at Don's house (Broughman, Harris and Ruppel were unavailable). Wine, steaks, wine, veggies, wine, dessert … did I say wine? Then we reviewed together the 25 years of the BGA, match by match, story by story, embellishing one after another … from what we could or tried to remember. Truly we are in the September of our years. However, it might actually be October or November for Mark … as he was unable to recall a single detail from ANY of his four BGA major victories.
And can someone tell us … what in the world ever happened to Larry von Arx?!?!?! (who won The Spam in 2013)
Swing Easy! (Sinatra, 1954)
I mean, that's what they tell you to do, when you're hitting your first tee shot into a 20 mph wind, right? Well … some did … and some did not. Good swings and scoring were hard to come by during the first round on Saturday at Queenstown Lakes; however, a few players managed the elements and their bogey'ness well enough to score well and get into the final group for Sunday — Elkins, Hoff, Chester and Mejia. They were followed by a true bogey round by Solis, Nelson, Scott and Clement … then by Keough, Cummings, Kuhlmann and Drehoff, who gave bogey golfers a bad name that day.
Went straight to dinner, eating wonderful Maryland seafood, drinking wonderful cold beer, in a perfectly local restaurant overlooking the calm and chilly Chesapeake Bay. Then "home" to the "Chester Cottage," right on property at the Queenstown Harbor Golf Course. Excellent accommodations, right?
In The Wee Small Hours Of The Morning (Sinatra, 1955)
Or at least it used to be that way. Back in the day, we played 36 a day and stayed up to well past midnight. Saturday night (afternoon?), the first guy announced "I'm going to bed" at 9pm … the next at 9:30pm … two more at 10pm.
However, we were able to celebrate the first round, along with two timely and heartfelt nomination ideas from Tom. First, renaming the Wellman/Dos Equis after the late Dale Lay (unanimous) … and the second, naming Frank Mejia as the first member of the BGA Hall of Fame (again, unanimous … but Mark and Don thought they were already "in" 🙂
That's Life (Sinatra, 1966)
I did not have the privilege of playing in the final group … but by all accounts from the players themselves and several thousand spectators who were following the leaders … it was a major for the ages.
Andy and Bob were tied at 20 points starting the day, followed by Frank with 15 and Mark with 12. Chester started with three pars on the first three holes to truly get back into the mix … Frank scored well, too … and with Andy and Bob trading identical front nine scores, the match drew ever tighter.
As the back nine wore on, with Andy and Bob played steady and well. But Mark parred three holes over a four hole stretch … then Frank birdied two holes in a row … and all four players arrived at the 18th hole where mathematically, ANY ONE OF THEM could have won the championship!
A Man Alone (Sinatra, 1969)
The final hole on Queenstown River is a brute: a 567 yard par five from the blues, shortened by 100 yards on Sunday because of the cold and breezy conditions, but still with two forced carries over environmental areas and a narrow green, Sunday back pin, and fronted by a cavernous bunker.
Chester made par to finish with 33 modified Stableford points — and would have at least tied for the lead to force a playoff — if the other three made triple. Frank made double to finish with 34 points. Bob scored strong with a solid bogey and 36 points. And Andy was wobbly off the tee, found the penalty area on two, stumbled and bumbled from there to the green … and had a four footer to save double bogey to win.
Before the ending, first, a word. Both are former BGA Rookies of the Year, having shined in previous Dos Equis Challenges. Bobby bombs and is the prototypical player every BGA'er wants to be … hit it long, get it to the green, chip/putt to get your 4 or 5. Andy, the youngest of the new BGA players, is more crisp on his irons, can putt like a fiend, and is quite exaggerated when stating his handicap 🙂
Both players acknowledged the final round and final hole pressures of playing for history … and a toilet seat trophy that no one will sit on … for a tournament that Queenstown Harbor forgot to put the right names on the carts and had to be reminded to construct the closest to the pin markers.
And both men acknowledged the life-changing importance of winning their first major, this, in the 25th anniversary year of the BGA.
And both men knew that only one would win.
Elkins made the four-footer.
A man alone.
Past, Present, Future (Sinatra, 1980)
I shed a tear of happiness when I think back over these past 25 years of the BGA: seeing Frank get off the boat from Cuba, with nothing but a makeshift 7 iron, the shaft made out of sugar cane, wearing nothing but the Bugle Boy clothes on his back. Or when Tom had more testosterone and would not concede two inch putts to anyone (or know the names of these anyones). Or when Mark used to hit these big banana left to right slices off the tee (ok, he still does that today). Or when Steve was elected to the Cart Girls Hall of Fame (first ballot, unanimous). Or when Dietrich promised to get us all a 1% home equity line of credit if he ever left being an Navy Admiral to go work for NFCU.
To the present today. Great guys added through the years — Bob, Al, Tom, Pat. Great guy added this weekend — Terry.
And to the future of the BGA — congratulations to Andy Elkins, winner of the 2019 Kohler, the first major of 2019, this in the 25th anniversary year of the BGA.
We are in good hands.
No One Cares (Sinatra, 1959)
The scores (top 12 finishers receive a one-year exemption for having to qualify for the next four majors and an automatic invitation to this year's Lay event) :
| | | |
| --- | --- | --- |
| | | Points |
| 1. | Andy Elkins | 37 |
| 2. | Bob Hoff | 36 |
| 3. | Frank Mejia | 34 |
| 4. | Mark Chester | 33 |
| 5. | Tom Clement | 24 |
| 6. | Steve Scott | 17 |
| 7. | Don Drehoff | 13 |
| 8. | Al Solis | 6 |
| 9. | Tom Nelson | -4 |
| 10. | Dietrich Kuhlmann | -8 |
| 11. | Pat Keough | -12 |
| 12. | Terry Cummings | -20 |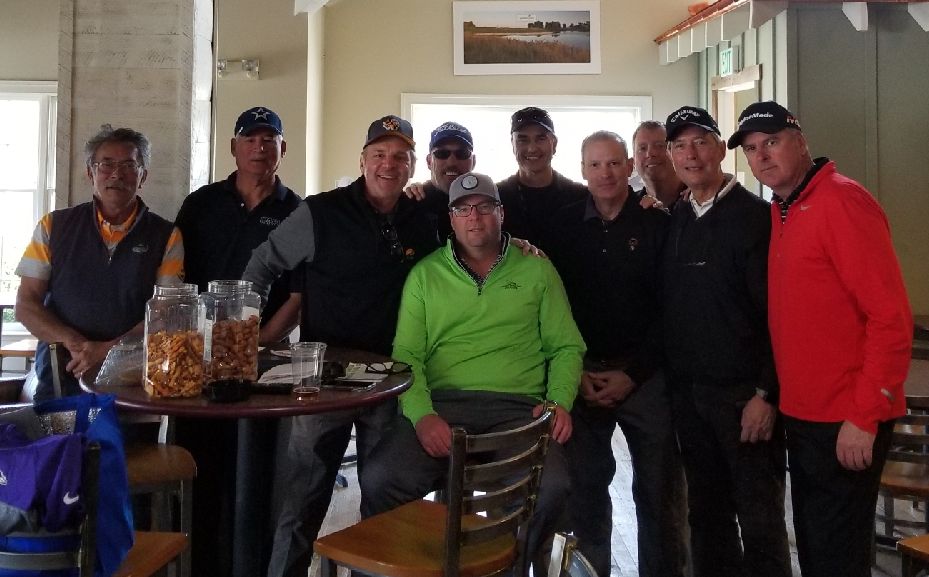 The 2019 Kohler Group – From left to right, Tom Nelson, Al Solis, Don Drehoff, Steve Scott, Andy Elkins (seated), Mark Chester, Dietrich Kulmann, Bob Hoff, Frank Mejia, Tom Clement