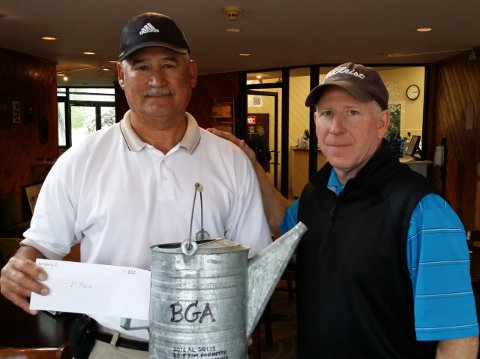 Al Solis, Water Can Classic Champion
It was a big weekend for Al Solis who captured his first BGA Championship on this rainy day. Al also joined the BGA eagle club when he holed his approach from the fairway up the hill on the tough par 4, hole 3 at
Laurel Hill Golf Course on Saturday.
It was a cool, cloudy and eventually rainy weekend for the 4th Annual BGA Water Can Classic. Modified Stableford scoring as follows, Par: 1 point, Birdie: 3 points, Eagle: 5 points, Bogey: 0, Double Bogey: -1 point, Triple Bogey: -2 points.
We arrived at Glenn Dale Golf Course Sunday morning for our scheduled third and final round but the course had taken on too much water from rain on and off over the last 5 days. With it still raining, but not heavy, we moved the round to Enterprise Golf
Course, only 10 minutes away. Rain finally stopped as the front nine was coming to an end. The course drained very well and was in good shape.
| | | | |
| --- | --- | --- | --- |
| | | Sun | Total |
| 1. | Al Solis | +4 | +15 |
| 2. | Mark Trusheim | +1 | +5 |
| 3. | Frank Mejia | +3 | +3 |
| 4. | Leon Anderson | -5 | +2 |
| 5. | Bob Hoff | -7 | -8 |
| 6. | Jeremy Moreland | -7 | -16 |
| 7. | Tom Nelson | -12 | -26 |
| | Jim Frenette | -13 | -26 |
| 8. | Chuck Petrilla | WD | -17 |
| 9. | Steve Beaulieu | WD | -31 |
Saturday, April 30th — Second Round, Laurel Hill Golf Club, Lorton, VA
| | | | |
| --- | --- | --- | --- |
| | | Sat | Total |
| 1. | Al Solis | +4 | +11 |
| 2. | Leon Anderson | +7 | +7 |
| 3. | Mark Trusheim | -2 | +4 |
| 4. | Frank Mejia | +2 | 0 |
| 5. | Bob Hoff | -5 | -1 |
| 6. | Jeremy Moreland | -2 | -9 |
| 7. | Jim Frenette | -7 | -13 |
| 8. | Tom Nelson | -13 | -14 |
| 9. | Chuck Petrilla | -9 | -17 |
| 10. | Steve Beaulieu | -15 | -31 |
| | | | |
| --- | --- | --- | --- |
| 1. | Al Solis | +7 | |
| 2. | Mark Trusheim | +6 | |
| 3. | Bob Hoff | +4 | |
| 4. | Leon Anderson | 0 | |
| 5. | Frank Mejia | -2 | |
| 6. | Tom Nelson | -1 | |
| 7. | Jim Frenette | -6 | |
| 8. | Jeremy Moreland | -7 | |
| 9. | Chuck Petrilla | -9 | |
| 10. | Steve Beaulieu | -16 | |
PRIZE FUND $900
Al Solis $120
Mark Trusheim $80
Frank Mejia $50
Closest To The Pin $50 each
Round 1
4 TOM NELSON $50
7 LEON ANDERSON $50
11 TOM NELSON $50
14 FRANK MEJIA $50
Round 2
4 JIM FRENETTE $50
8 {carryover} $50
11 BOB HOFF $50
14 LEON ANDERSON $50
16 BOB HOFF $50
Round 3
4 AL SOLIS $50
8 BOB HOFF $50
13 FRANK MEJIA $50
15 JEREMY MORELAND $50