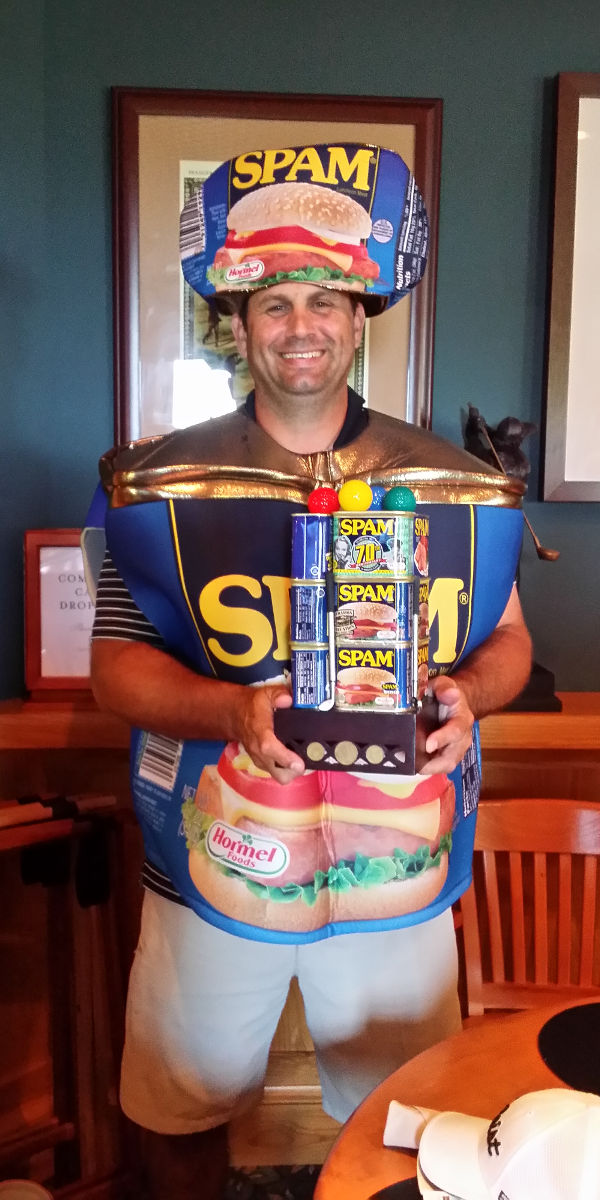 Roger Waters – SPAM Champion
As usual, the SPAM Champion emerges from the group behind the leaders to capture a large quantity of Sunday Skins. Roger Waters wins his first BGA Major collecting 28 skins on the final round. Roger hosted a great feast on Saturday evening at his place with enough food to feed a hungry O line and then some that may have helped to fuel his victory on Sunday. Thanks Roger! we had a great time eating steaks, ribs, chicken, more ribs and chicken, cornbread, some veggies and pies for desert. Not to mention the fridge out in the garage that was completely full of beer!
The final round foursomes were as follows: First group: 5.Mark Trusheim (8 skins), 5.Tom Nelson (8 skins), 7.Roger Waters (6 skins), 8.Chuck Petrilla (2 skins). Second Group (leaders): 1.Jim Frenette (17.25 skins), 2.Al Solis (12.75 skins), 3.Jeremy Moreland (9.25 skins), 4.Frank Mejia (8.75 skins).
Sunday, June 15th — Final Round, Heritage Shores Club, Bridgeville, Delaware
| | | | |
| --- | --- | --- | --- |
| | | Sun | Total |
| 1. | Roger Waters | 28 | 34 |
| 2. | Jeremy Moreland | 20.5 | 29.75 |
| 3. | Al Solis | 9.75 | 22.5 |
| 4. | Jim Frenette | 1.25 | 18.5 |
| 5. | Tom Nelson | 6 | 14 |
| 6. | Frank Mejia | 4.75 | 13.5 |
| 7. | Mark Trusheim | 2 | 10 |
| 8. | Chuck Petrilla | 0 | 2 |