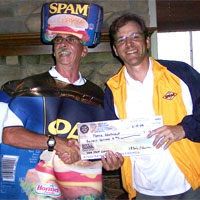 June 16, 2008 — Ocean City, MD. The hoped-for axiom certainly proved true — the Spam doesn't begin until the back nine on Sunday. Surviving a fierce onslaught by former Major winners and young guns alike, BGA tour rookie Frank Northrop fired a sizzling 39 on the back nine at Lighthouse Sound to win the 2008 Spam and capture his first BGA Major.
Northrop, who was shut out on the first day of play, sitting dead last with zero skins — used the mental toughness learned as a former professional ten-pin bowler (along with a pretty deft short game) – to "roll" his foursome on the back nine for 20 skins and the win.
"It was the greatest weekend of golf in my life," said an obviously stunned Northrop — due in part to winning a Major and largest payday ($16.00) of his career – but also having to don a man-sized can of Spam costume for pictures and awards, in front of a clubhouse full of stunned strangers and laughing Lighthouse Sound employees.
The final outcome was very much in doubt, as each foursome had at least one player make a furious run and post the most skins for a short-lived lead. First, it was "Mr. Mile High Club" himself, Alex Scarcella, grabbing 23 skins on the final day to be first in the clubhouse with the lead (29.45 skins total). Then, it was "This Ain't The Spam, It's The Scam" Randy Broughman with a big final round close of 18 skins (26.25 skins total) to almost catch and pass Scarcella. And then finally, it was Don Drehoff, in the next to last foursome, actually gabbing the clubhouse lead, when he reached the closing par 5 in two, lagged his 60 ft eagle putt for a tap in birdie, and snagged 21 skins on the back 9 holes alone (32.30 skins total).
But in that final foursome of the day — it was all Northrop (38.50 skins total). Mark Trusheim, one of the best players never to win a major, went to sleep Saturday night with the lead. But he obviously didn't sleep well, stumbling to a bogey-plus round on Sunday (19.95 skins total). Steve Flynn and Roger Waters, both with legitimate chances and game to win, also lagged with just a handful of skins between them on Sunday (finishing with 17.00 and 15.80 skins, respectively).
And former BGA Major winners didn't fair too well in their attempts to capture their first elusive Spam jacket. Jim Frenette was very steady in play, scoring well, but simply didn't have the luck to capture a lot of skins (14.00 skins total). Eduardo Urrutia, dressed like Omar Shariff on Saturday, was overcome by the heat and those long European cigarettes, and sputtered (12.85 skins total). And Frank Mejia, obviously pre-occupied with endorsement deals and not golf (he's into retro-Italian now, he looked like Martin Scorsese in his new sunglasses), started out the tournament blazing, grabbing 7 skins in the first 9 holes, only to go limp with just 5 skins over the last 45 holes (12.10 skins total).
Matt Clary and Charlie Daimler, relatives that they are, spent the entire weekend within a place or two of one another or tied. For Clary, it was some sort of illegal driver (still to be tested by BGA officials) that kept him in the hunt for most of the weekend, as he only missed one fairway over the last two rounds of golf (15.40 skins overall). And for crowd favorite Daimler, it was either feast or famine, as he chain-smoked his way to a magnificent birdie to start the back nine on Sunday, only then to revert back to bogey golf, unable to even use his one-stroke advantage down the stretch (14.40 skins overall).
And congrats to BGA rookies who proved themselves well. It's only fitting that a rocket scientist should have faired best in that group, with Scott Green getting his fair share with 8 skins on Sunday (16.05 skins overall). Big hitting John Schreiber came to the 18th hole on the final day with a chance to win … had he taken the hole, he would have beaten Northrop by just .15 skins! But he topped his driver into the small pool just 20 feet in front of the green. An obviously shaken Schreiber came off the tee, tears in his eyes and muttering to himself, "I'm just a kid … this is too much pressure!" (14.65 skins overall). Ron Poole was VERY steady over the weekend and was rewarded with an encouraging 5 skin effort on Sunday (7.25 skins overall).
And Scott Torbeck, my brother-in-law Scott Torbeck, my blood brother Scott Torbeck, while he did post one of the best round of his life (97 on Saturday), unfortunately moved steadily down the leader board from 13 to 14 to 15 to 16 over the course of the weekend.
Final Results
| Pos. | Player | Skins | Scoring* |
| --- | --- | --- | --- |
| 1. | Frank Northrop | 38.50 | 4 |
| 2. | Don Drehoff | 32.30 | 3 |
| 3. | Alex Scarcella | 29.45 | 2 |
| 4. | Randy Broughman | 26.25 | 1 |
| 5. | Mark Trusheim | 19.95 | 9 |
| 6. | Steve Flynn | 17.00 | T5 |
| 7. | Scott Green | 16.05 | 16 |
| 8. | Roger Waters | 15.80 | T10 |
| 9. | Matt Clary | 15.40 | 12 |
| 10. | John Schreiber | 14.65 | 8 |
| 11. | Charlie Daimler | 14.40 | 13 |
| 12. | Jim Frenette | 14.00 | T5 |
| 13. | Ed Urrutia | 12.85 | T5 |
| 14. | Frank Mejia | 12.10 | T10 |
| 15. | Ron Poole | 7.25 | 14 |
| 16. | Scott Torbeck | 5.85 | 15 |
* all 3 rounds avg. score
For more info, click here for the rules and/or see the 2008_Spam Excel spreadsheet attached below