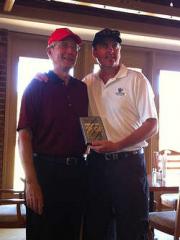 Results of 2010 Wellman Cup — Pinehurst, NC. As was experienced the previous week by the US Ryder Cup Team arriving and playing on unknown turf – WALES – so too did the US BGA Wellman Cup players felt arriving and playing at hallowed Pinehurst NC. A very nice feeling. All players arrived Thursday evening, except Nighthawk Campbell showed up fashionably late (2 am), plus amidst the cocktails the Black Team bantering began calling the Red Team the "Pink Team". It was all in fun, but wonder who would have last laugh! The courses are set, the format is locked in and the weather will be sunny and stunningly beautiful fall temps.
October 8, Friday – Tobacco Road, designed by renowned Mike Strantz. Played at 6581 yds./131 slope rating.
Format: Best Ball (Four Ball) – two – 2 man teams, all four balls in play. Lowest ball score for the hole will give that team's ball a point. Move to next hole.
Black
Red
Randy Broughman
Scott Rush
2 & 1
Bobby Brunner
Jim Frenette
Mike Campbell
Andrew Dosik
Jawad Rachini
Bryan Bost
1 up
Bob Hoff
Rodger Baker
Roger Waters
Aaron Waters
3 & 2
Tom Clement
Brett Coffman
2 & 1
Frank Mejia
Chuck Petrilla
2 Points
2 Points
The Welcome Players Dinner was held at Beefeater's in little town of Southern Pines, NC. Very tasty, very filling, very satisfying, and the both Teams even after first round. Very
nice! Will the Captains make adjustments to Saturday's marathon play of 2 rounds and 8 points at stake?
October 9, Saturday AM – Talamore CC, designed by renowned Rees Jones (1924) Captain's Choice- one person per team is designated as Captain, two shots will occur from Captain's ball choice
location, until you hole out. Lowest team score will win the hole.
Black
Red
Tom Clement
Randy Broughman
halved
Bobby Brunner
Roger Waters
halved
Brett Coffman
Andrew Dosik
Chuck Petrilla
Bryan Boston
2 & 1
Scott Rush
Mike Campbell
4 & 3
Jawad Rachini
Frank Mejia
Rodger Baker
Bob Hoff
Jim Frenette
Aaron Waters
6 & 5
3 ½ Points
4 ½ Points