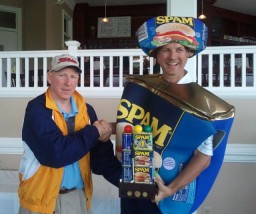 Chuck Petrilla – SPAM Champion!
Chuck Petrilla captured 12 of his 15.5 Sunday skins on the 15th hole rolling in a huge 20+ footer on the sloping PB Dye greens enroute to a SPAM victory / 33 skins. Alex Scarcella made a charge that started on the back nine Saturday shooting 39 and then a 79 at PB Dye on Sunday … second place / 30 skins. Frank Mejia, Low Gross winner 246 and third place with 27.25 skins.
For detailed results, see the
2011-Spam-Leaderboard-Final.PDF
put together by tournament host, Alex Scarcella.
Final Round 3, PB Dye Golf Club blue tees, 6/5/2011
1st Group: Roger Waters, Aaron Waters, Alex Scarcella, Rodger Baker
2nd Group: Bob Hoff, Ed Urrutia, Frank Mejia, Jim Frenette
Leaders Group: Mark Trusheim, Chuck Petrilla, Bobby Brunner, Mike Campbell
Don Drehoff, the patriarch of the Spam had these words from afar after round two:
Mark Trusheim – How many times has this guy led going into the final round … only to stumble?
Chuck Petrilla – What an accomplishment to come back and finally win his first major!
Bobby Brunner – he's been there, done that, don't count him out
Mike Campbell – Freddie Couples approach with only Don Drehoff talent … wouldn't bet the farm here
Jim Frenette – tough to defend … but oh, he wants it bad!
Ed Urrita – playing for Steve … don't count him out
Bob Hoff – gotta like any guy with "Hoff" in his name
Frank Mejia – the Legend … here's hoping Chester didn't throw him off his game
Roger Waters – big hitter, he's been close, but never from so far back
Aaron Waters – the kid …
Alex Scarcella – the kid no more … what a disappointment
Rodger Baker – last to first would be amazing!
Round 2, Laurel Hills, 6/4/2011
1st Group: Frank Mejia, Alex Scarcella, Chuck Petrilla, Rodger Baker
2nd Group: Mike Campbell, Roger Waters, Aaron Waters, Mark Trusheim
Leaders Group: Bob Hoff, Ed Urrutia, Bobby Brunner, Jim Frenette
Round 1, Little Bennett, 6/3/2011
1st Group: Bob Hoff, Chuck Petrilla, Mark Trusheim, Rodger Baker
2nd Group: Mike Campbell, Roger Waters, Aaron Waters, Ed Urrutia
3rd Group: Bobby Brunner, Frank Mejia, Alex Scarcella, Jim Frenette