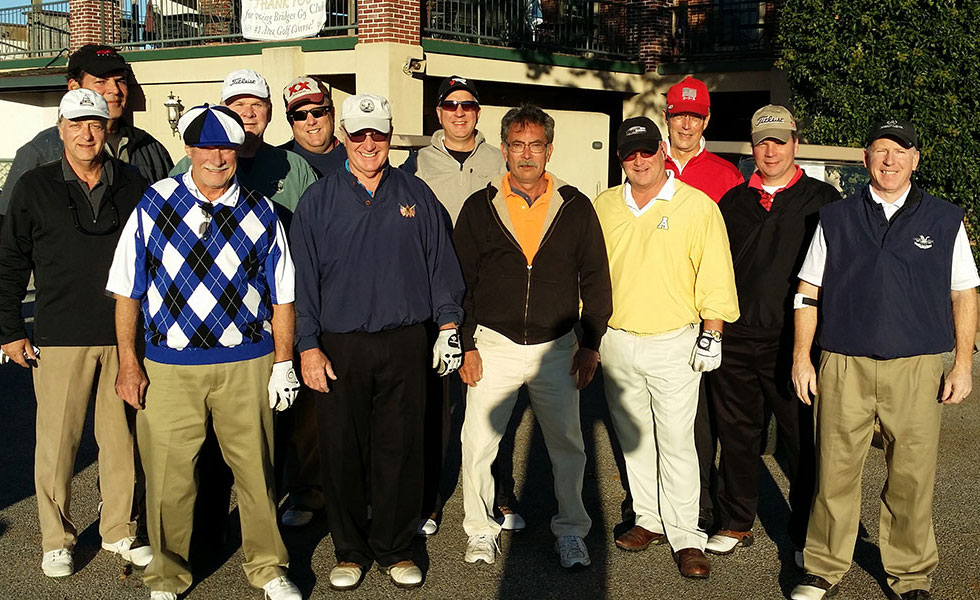 A gathering of 12 of the most interesting men of the world provided for a team match play format and a pot of $600 over the weekend of October 24-26 in Gettysburg PA area.
First, it was gorgeous weather all weekend; a bit windy, but sunny and 60's in the colorful foliage of the PA foothills.
The Bridges of Gettysburg golf course was in outstanding condition; the greens were the best and in professional speed and difficulty.
Also, the varying elevations and nuances of the course proved to be a challenge from the white tees that totaled 6300 yards.
BGA veterans Frank Mejia and Jim Frenette captained to two 6-man teams in a Ryder Cup format (match play) – The ACES and The JOKERS, respectively.
Results
Friday – Four Ball Match
Aces
Jokers
Frank Mejia
Tom Nelson
$40 split
Jim Frenette
Eduardo Urrutia
Chuck Petrilla
Glen Klamut
Bob Hoff
Tom Camparato
$40 split
Steve Beaulieu
Hal Williams
Steve Flynn
Charlie Daimler
$40 split
1 Point
2 Points
Saturday AM – 2-Man Scramble
Aces
Jokers
Chuck Petrilla
Tom Nelson
$40 split
Jim Frenette
Tom Camparato
Frank Mejia
Steve Beaulieu
Eduardo Urrutia
Charlie Daimler
$40 split
Glen Klamut
Hal Williams
Bob Hoff
Steve Flynn
$40 split
2 Points
4 Points
After the morning round, overall team score was Jokers 4 to Aces 2.
Saturday PM – Alternate Shot (never having to say you're sorry more than a dozen times)
Tom Nelson
Hal Williams
$40 split
Steve Flynn
Tom Camparato
Glen Klamut
Steve Beaulieu
Jim Frenette
Charlie Daimler
$40 split
Frank Mejia
Chuck Petrilla
Bob Hoff
Eduardo Urrutia
$40 split
3 Points
6 Points
After the alternate shot, overall team score was Jokers 6 to Aces 3.
Sunday – Single Matches
Captain
Frank Mejia
$20
Captain
Jim Frenette
Glen Klamut
Bob Hoff
$20
Tom Nelson
$20
Eduardo Urrutia
Chuck Petrilla
$20
Steve Flynn
Hal Williams
$20
Tom Camparato
Steve Beaulieu
Charlie Daimler
$20
7 Points
8 Points
Final Score, 8-7 for a JOKERS narrow win.
Great golf matches to match the super weather and course.
We did have pot of $120 for 'closest to pin', big winner was Mejia for winning 4 of 12 Par-3 greens, Hoff and Williams had 2 greens each, and Flynn, Daimler and Beaulieu with one green each. The one green (#4) that nobody won donated to help with website
registration fees.
2014 BGA Dos Equis (XX) Cup Money Leader & MVP Champion
1st place goes to Bob Hoff with a 4-0 record and two closest to the pins, $100
Second place – Charlie Daimler with a 4-0 record and a closest to the pin, $90
Tied for third place – Tom Nelson with a 4-0 record and Frank Mejia with a 2-2 record and 4 closest to the pins. $80 each
Thanks to all that made it to the Dos Equis Cup, for it is you that makes it happen.