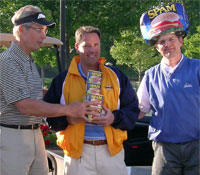 May 2006 — OCEAN CITY, MD — Despite near-perfect Spring weather conditions, a much deeper and improved field, and individual single-sized servings of SPAM carried by everyone, Dan Spotts and his "running-out-of-gas" bogey on the final hole was good enough to edge Jim Frey's chili-dipping bogey on the same hole just minutes prior, earning Spotts his first BGA Major win.
Dan, dropping down in class after many years on the BTBGA (Better Than Bogey Golf Association) – drove into less than prime position on 18, aimed left but instead mishit THRU two narrow trees on his second shot, overshot the green on his third thus earning an unplayable, dropped and pitched on his fifth, then seemingly tired and disappointed, used the back of his wedge to hole out the last eighteen inches, not knowing that the putt would be JUST ENOUGH to secure the win with 39.5 Skins.
Jim Frey, with a maddening and Ron Chambers-like charge on the final day, drove uphill on the 18th hole, 525 yard par 5, to the fringe IN TWO, then chili-dipped the pitch, hit again then two-putted, and ending up splitting the hole with the rest of the foursome, earning the Einstein-like final score of 38.58 (two decimal places only), less than one Skin short from his first BGA Major!
Finishing third in a flourish was 2005 Rookie of the Year Jim Frenette (30.33 Skins), after recovering from the most memorable shot of the tournament on Friday (attempting to toss his faulty driver in a lake, scurrying down the bank to retrieve, reaching for the handle only to discover it was a live and fairly large snake, then muddying his trousers, both inside and out, before finally finding his club), Jim earned 29 Skins on Sunday alone to charge to the first page of the leader board.
Always the bridesmaid, never the bride (his words, not mine), Chuck Petrilla (29.5 Skins) held the lead against the top players in the final group on Sunday with only twelve holes remaining, but honestly, did nothing to embarrass himself enroute to breaking 90 overall and reinforcing his reputation as the "BBGNTWABGAM" the best bogey golfer never to win a BGA major).
Don Drehoff (18.5 Skins), at age 46, brought back memories of Jack Nicklaus at the same age in the '86 Masters, heading into the weekend with the outright lead. But alas, he played SO LAME on Sunday, earning "0" Skins, that the gallery began calling him "Barbaro" as he would limp by.
Mark Trusheim (18.25 Skins) played increasingly better round-over-round, always fit and trim in Gary Player-like fashion, he got stronger and gathered more Skins as the weekend progressed, look for him to eventually earn a first major win, as the rest of us become more sedentary and begin to die off.
Sadly for the golf world, there will be no Mejia Slam this year. Frank Mejia (16.75 Skins) never quite seemed to get on a roll over the weekend. Maybe it was the pressure of playing for new sponsor Dockers, in lieu of Bugle Boy and FUBU (although his slacks seemed to get shorter each day, I think he might be still growing).
Newcomer Alex Scarcella or Wright or Whatever his Last Name Is (13.25 Skins) certainly played respectable in his first BGA major, but he's a pilot and actually FLEW to the event, in fact THREE guys this weekend are pilots and have their own planes. I think newcomers have to donate a plane before they can play again.
Captain Dietrich Kuhlmann (13 Skins), despite solid recent play, favorable pairings throughout the weekend (because of his close association with the tournament's sponsor), and fairly natty attire (for him), was consistently inconsistent to finish in the middle of the pack (actually the lower third, but he's my best friend, you know).
Charlie "Chrysler" Daimler (11 Skins) finished 10th, but truly raised his game and had one of the best rounds of his life on Saturday, from the tips! Rumor that he left the coffee pot on in the condo which led to the eventual burning down of the entire building led to his unraveling on Sunday.
Glenn Donaldson (10 Skins) showed up on Sunday to help us fill out the foursomes and played wonderfully. Glenn, I am sorry that I forgot to announce your point total before you left, let me know your mailing address so I can send you a case of SPAM, and hope to see you for the whole weekend next year, truly.
Could someone call a Doctor, please? Anyone? Rick "Call The Doctor" Proctor (9 Skins) played the best round of HIS life on Saturday, but couldn't match his pars and bogeys to his partners' bogeys and doubles in order to capture Skins. But did you know that Rick parred the 1st hole at Pebble Beach his first time playing there?
First timers Anthony "Woody" Woods and Jeff Hughes, no shows and DQ'ed on Sunday. The public report has it that Woody took ill with some bad orange juice purchased at an OC greasy spoon on Sunday morning (privately, there are whispers that there may have been a few too many OJs and JDs on Saturday night.
All and all, a great time had by all. Thanks for joining in and adding to the fun of my birthday weekend. Hope to see you next year, if not before, and bring a friend!
Final Results – 2006 SPAM Invitational • May 19-21, 2006
| | | |
| --- | --- | --- |
| 1. | Dan Spotts | 39.50 |
| 2. | Jim Frey | 38.58 |
| 3. | Jim Frenette | 30.33 |
| 4. | Chuck Petrilla | 29.50 |
| 5. | Don Drehoff | 18.50 |
| 6. | Mark Trusheim | 18.25 |
| 7. | Frank Mejia | 16.75 |
| 8. | Alex Scarcella | 13.25 |
| 9. | Dietrich Kuhlmann | 13.00 |
| 10. | Charlie Daimler | 11.00 |
| 11. | Glenn Donaldson | 10.00 |
| 12. | Rick Proctor | 9.00 |