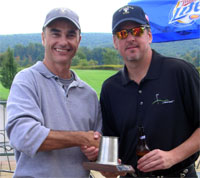 Abbottstown PA, Sept. 29 – Oct. 1. — Made for a Golf Channel series. Forget the movies "Remember the Titans" or "The Greatest Game Ever Played". Hollywood could not have scripted or filmed anything finer than what was experienced at the 7th Wellman Cup in Gettysburg, PA. The backdrop of the rolling hills, lush valley, babbling creeks and covered bridges provided a setting for combat once again in the Gettysburg area, Abbottstown to be exact.
Only a century and a half ago the same ground was a setting for a more brutal match of brother against brother, this time it was done in a gentleman's way and with the USGA Rules hanging over every effort. The Civil War theme provide a match play event pitting 2-twelve man teams – the Blue and the Grey – that winner take all the bragging rights, at least for another year.
The setting was an 18-hole course known as the Bridges of Gettysburg. Fairways and defenses were carved out and into the natural contour of the hills and valley. Add to it fast, manicured and tricky greens and you have the battleground. The un-sung hero of the battle were the green keepers – every morning under flood lights they would change the tee box, provide new pin placements on the 18 greens and finally mow it to a deceptive speed.
The Union's Blue Team Captain, Tom Clement from New Jersey, assembled a formidable, uniformed team. Gleaming with blue and proud as a peacock.
Team Blue was comprised of Tom Clement (NJ), Ron Chambers (NC), Don Drehoff (MD), Mike Campbell (VA), Alex Scarcella (DC), Mark Trusheim (VA), Dale Lay (PA), Steve Scott (VA), Stan Scott (VA), Chuck Petrilla (VA), Chris Hughes (VA) and Vince Olds (MD).
The South's Grey Team Captain, Mark Chester from Virginia [via Ohio], countered with a patch quilt of players with just a hat for battle colors.
Team Grey was comprised of Mark Chester (VA), Frank Mejia (VA), Dan Spotts (MD), Jim Frenette (VA), Bobby Brunner (VA), Mike Power (VA), Dietrich Kuhlmann (OR), Steve Flynn (VA), Matt Clary (VA), Rick Proctor (MD), Charlie Daimler (VA), and Glenn Donaldson (MD).
Friday.
Friday afternoon's Captains Choice match play provided all players a feel for the course while scrambling to win points and get an early lead. Team Blue was boasting at dinner that night with a 4 to 2 lead. The players were clamoring for the Saturday pairings to sleep with thoughts of attack and eventual victories. Some drank too much, others were just plain tried of belly aching talk and went to bed.
Saturday – AM
Saturday morning's round of Better-Ball (Four ball) provided a testament to the Blue Team Captain, Tom Clement, that he was on track to kick some ass. By midday, Blue was continuing to lead Grey with a score of 7 to 5. In match play, getting two points when in arrears if sometimes difficult, but not impossible.
Saturday – PM
Captain Chester did some verbal lashings to his team and provided an open bar for the Blue team. The afternoon tough play of Alternate Shot would be the deeming factor if this battle is done and the WAR over. The first four of the six matches came in with each team splitting the points – one for Blue and one for Grey. There was no gain.
Score now was at Blue 9, Grey 7.
The final two pairings came in, the 2 points at stake were won by the Grey team. Unbelievable as it may, but it was now TIED after three rounds at 9 points each. Electricity was in the air (along with a tub of beer and platter of cheese 'n crackers), and the game was on.
Sunday's 12-single match plays would be the factor as "every point counts" so firmly stated by Grey Captain Mark Chester at Saturday night's Wellman Cup dinner.
Sunday.
Morning sounds. An awakening of hearing Charlie in the hall brewing fresh coffee. Another early, dark morning sound was through the crack in the window that allowed fresh night air, came the sound of the greens keeper mowing the practice green and 9th green under flood lamps.
Blue Team arrived dressed in all black, except Don in blue Tattersall plus fours.
Grey team came in black slacks and grey shirts, except FNG in khaki and a flowing "prince" shirt!
The 12 parings and tee order were as such –
| | Blue Team | Grey Team |
| --- | --- | --- |
| 1. | Vince Olds | Rick Proctor |
| 2. | Chris Hughes | Charlie Daimler |
| 3. | Don Drehoff | Steve Flynn |
| 4. | Dale Lay | Matt Clary |
| 5. | Stan Scott | Mike Power |
| 6. | Mark Trusheim | Glenn Donaldson |
| 7. | Mike Campbell | Dietrich Kuhlmann |
| 8. | Chuck Petrilla | Jim Frenette |
| 9. | Steve Scott | Frank Mejia |
| 10. | Ron Chambers | Bobby Brunner |
| 11. | Alex Scarcella | Dan Spotts |
| 12. | Tom Clement | Mark Chester |
The day was bright.
The chill of the morning gave way to a warming by the sun and provided a super picture view of the course.
We could continue with details and intricate stories within each match, but in short it was an exciting ending. with the early eight matches in, it was still tied at 13-13 (4-points per side) The last four matches would determine the outcome of the winning team, the final four points were all Grey – Brunner, Mejia, Spotts, Chester.
Grey Team defeats Blue Team with '17' to '13' point posting.
A super weekend of golf, camaraderie, fine dining, merry cheers, guitar singing, cigar smoking (or choking) and laughs galore.
Thanks to all.
Congratulations Grey Team !
---
Post coverage, scroll down to the bottom right