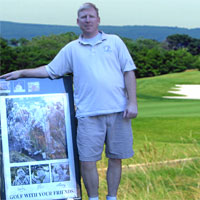 November 2006 — Maryland National Golf Club/Middletown, MD – It is a rare few that can deliver on rookie promise, but Jim Frenette did just that, winning the BGA's fourth and final major of the year, The 2006 Mulligan Memorial, Nov 4th and 5th at the Maryland National Golf Club, in Middletown, Maryland.
Frenette, the BGA's Rookie of the Year in 2005, dominated the last two days of match play, winning all six of his matches and thus his first major, joining the select few who can truly call themselves BGA Major Champions.
What started with a select field of 64 BGA professionals on Thursday (in our dreams), was whittled down to 4 by the beginning of Saturday's medal play – Frenette, Don Drehoff (multiple BGA major victories, too many to recount here), Matt Clarey (2006 Wellman Cup veteran and BGA lead counsel) and 2006 BGA Rookie of the Year and Burger King look-a-like, Charlie Daimler.
Jim finished Saturday with a comfortable lead (and a first round 86 on the long, hilly and chilly Arthur Hills layout), beating Matt 3 & 1, Don 3 & 1, and Charlie 4 & 2. Matt beat Don 1 Up, in the closest match of the day, paring three of the last six holes in what would be his best stretch of golf for the weekend. Unlucky Daimler was close but couldn't steal a point, losing 1 Up, with over-the-hill Drehoff needing a miraculous bounce from a nasty pull hook off a 60 foot tall oak tree to the center of the green on the final par three of their match.
The real first day winner was dinner at Don's house – lots of wine, big steaks (courtesy of Rick Proctor), fresh veggies, hoer's oeuvres' – did I mention lots of wine? Certainly, it was the best and most delicious meal and evening of the BGA season. Kelly Drehoff, the BGA's only woman to win points in a BGA Major (the decisive points, in fact, in Ron Chamber's narrow win over Frank Mejia in the 2005 Spam), was fantastic as primary cook, hostess, and Golf Channel representative.
Frenette closed it all out on the final day, but it wasn't easy. With the major clinched in a 2nd match win over Clarey, the pressure build-up and release was simply too much, as he folded like a cheap suit to Daimler, shooting a 50 over the last nine-holes (to Charlie's 49) and barely winning 1 Up. Drehoff beat Clarey for a bit of redemption from Saturday's shellacking, winning 1 Up with a 42 on the back nine.
And all the players made it back to the clubhouse in time for a few nightcaps, watch the sun go down, and see the Redskins upset the Cowboys with all those funky missed field goals in the last two minutes of the game, if you remember.
Final scores:
Jim Frenette 6-0
Matt Clarey 3-3
Don Drehoff 3-3
Charlie Daimler 0-6
Congratulations to Jim Frenette, the 2006 Mulligan Memorial Champion!!!
---
November 4th and 5th – Maryland National Golf Club – [http://www.marylandnational.com/index.htm]
The weekend format:
players ranked 1 thru 8 before play begins
top player gets one Mulligan (a do-over for any shot, anytime, anywhere) for each day for the 18 holes … the number eight player gets 8
first round fouresomes are 1-4-5-8 and 2-3-6-7
three 6-hole match play matches with the guys in your foresome each day … one point for each win, a half point for a split, 0 for the loss
players need to manage their quota of Mulligans over the three daily matches
top 4 point earners are in the same foresome on Sunday … bottom 4 in their own foresome … leaving it still wide open for anyone to win
top 4 point earners are in the same foresome on Sunday … bottom 4 in their own foresome … leaving it still wide open for anyone to win
count'em up at the end … and declare a major championship winner by 4pm on Sunday