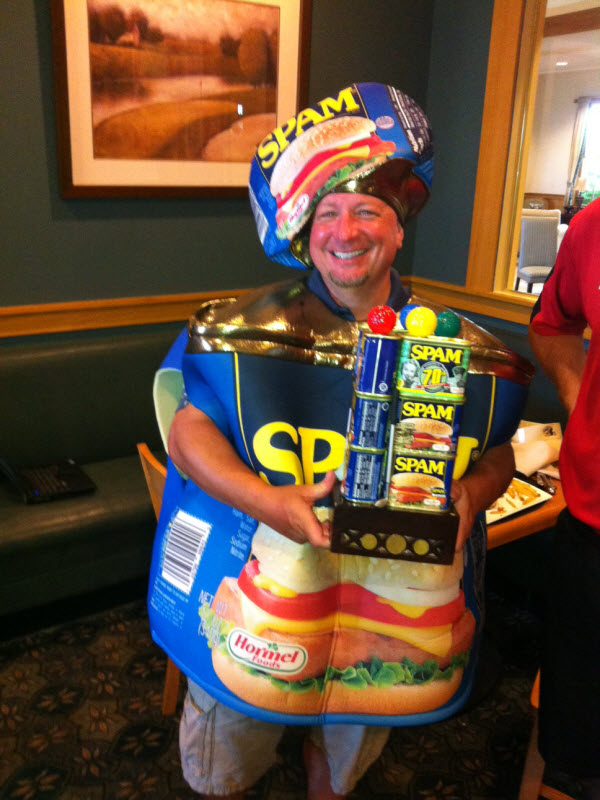 Lary von Arx – SPAM Champion
Bridgeville, Deleware — July 21, 2013. Lary von Arx who won two closest to the pins on Saturday utilized his par three skills yet again on the back nine Sunday picking up 16 skins with his par and another closest on the 161 yard 16th hole at Heritage Shores. Frank Mejia, in the foursome with Lary on Sunday, won a closest to the pin with a great shot on the uphill 132 yard par 3 14th to within 4 feet. With 10 skins, a SPAM title and BGA Career Grand Slam on the line, the pressure may have been too much for Frank. His uphill birdie putt couldn't find the bottom of the cup.
Other Highlights
Al Solis, 2nd place with 28.75 skins ran out of gas on Sunday. His 5 plus skin lead with 22 going into Sunday was not enough. Jeremy Moreland (3rd place, 26.75 skins), Tom Nelson (4th place, 24.62 skins) and Mark Trusheim (6th place, 23.75 skins) played well enough to hold him to only 6.75 of 36 skins in the final round. Jeremy, luckily had a spare wedge in his trunk after his original wedge finally gave in and broke after being thrown around all weekend.
Brett Coffman was a man on a mission Sunday keeping Bobby Brunner (5th place, 24 skins) from getting enough skins to make a charge. Brett had three birdies on Sunday, the first a 210 yard uphill 3 wood to within 5 feet on the par 4 4th. His second birdie was on the par 5 9th when he holed out from 80 yards – Jim Frenette rolled in a 20 footer on top of it for bird to push that hole. The third bird was a Bobby killer, a 10 footer Brett sunk on the 13th hole for 7 skins.
Par 3 Closest To The Pin Contest
Each closest to the pin was worth $16
Friday, The Peninsula
#5 Dave King
#9 Jim Frenette
#14 Tom Nelson
#16 Frank Mejia
Saturday, River Run
Frank Mejia
Bob Hoff
Roger Waters
Lary von Arx (2)
Sunday, Heritage Shores
#6 Jeremy Moreland
#8 Dave King
#14 Frank Mejia
#16 Lary von Arx